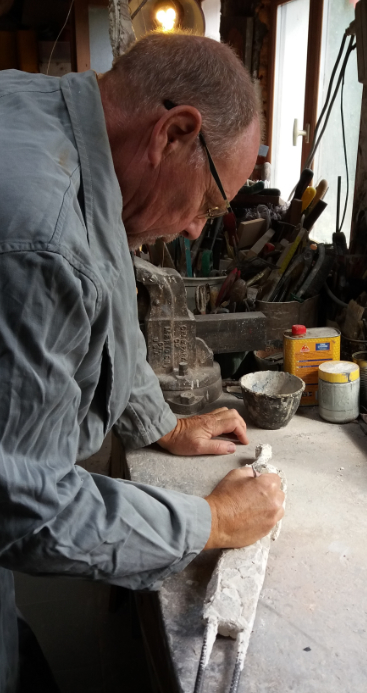 En ce moment, j'expose Paris !
Christian Cadelli was born in Belgium in 1953 in a family of craftsmen coming originally from Frioul.
Christian Cadelli werd geboren in België, in het jaar 1953, in een familie kunstenaars afkomstig uit Frioul. Zijn basisopleiding voor het werken met gips verliep heel spontaan in het atelier van zijn vader, zelf een professioneel artiest die afstudeerde aan de Academie voor Schone Kunsten te Brussel.
Voor het modelleren en beeldhouwen werkte C.C. met verschillende natuurlijke, al dan niet samengestelde materialen. Hun specifieke verkleuringen vinden hun toepassing bij de afwerking. De kunstwerken zijn dan ook vruchten van voortgezet onderzoek naar uiteenlopende composities van natuursteen, terracotta of hout. Voor de beeldhouwkunst levert het relatief zeldzame amalgamen op.
De ontwerpen zijn resoluut eigentijds, soms beïnvloed door primitivisme, maar steeds geladen met gevoel en emotie. Met andere woorden, expressie is alom tegenwoordig.
His knowledge of the basic techniques of gips was learned naturally in is father's workshop. Professional craftsman with a diploma from the Academie des Beaux Arts of Brussels
In order to work on modeling and sculpture, he became interested in various materials and their associations, as well, with applied finishes.
Always looking for new ideas, his research is often the result of the combining of natural stones, clay, bronze or wood, a combination not often used in sculpture.
Resolutely contemporary, these sculptures are sometime inspired by primitive art but they are always full of emotions.
In other words, expression is always present.